Updated: August 19, 2018
Riddims sent in: 1
Completed songs: 0
RIDDIMS(beats) to download
Sunday, August 19 2018
Completed songs
Sunday, August 19 2018
None yet. Be the first! Download a riddim and make a song on it!
What is Riddim 2018?
RIDDIM 2018 is a collaboration and competition between producers and artistes that is organized and run by NGplaylist! It is open to any artist and producer of any caliber! International stars, professionals, semi-professional, amateurs, first-timers are allowed to participate. This is a fair-play collabo to see the best music that can be collaboratively made! The way it works is that first, producers create beats/instrumentals, this beat is called a 'Riddim', and we will post it here.

Then any musician or singer or rapper (any vocal artiste) can download this RIDDIM and make a song on it!

When you make your song, please email or whatsapp it to us, and we will immediately put it on this page for people to listen and download and discuss and vote.

This collabo competition will be concluded at the end of the year 2018! In December 2018, we will decide on which artists 'rode the riddim' the best, and create a special playlist of the riddim winners

At the end of the year, we will create a compilation of the best 15 songs and the best 15 riddims, according to user votes. For participating, we will give adequate promotion and recognition to the producers, rappers, singers, and artistes who participate in this competition.

In Riddim 2018, there are two types of MP3s which you can send in. If you're a producer you send in a beat(riddim). If you're an artiste, you can send in a complete song which was done on a riddim you downloaded from this very page.

All the complete rules are at the bottom of this page.

There are many potential rewards for participating in Riddim 2018. NGplaylist is a very popular music platform, and people will get to know about your talents and abilities either as a producer or as a vocalist, so do your best, and who knows, you might have the next big hit on Naija radio stations!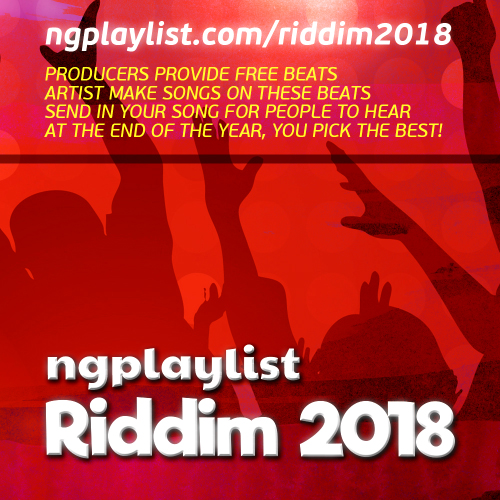 Are you a producer? Please read...
RIDDIM 2018 is a great opportunity for you to gain exposure, listening ears, and gain opportnities to produce for more people! If you produce good beats, the team at NGplaylist would love it if you joined in this Naija-Collabo!

We ask that you produce a great beat that people can ring or rap to. It can be in any music style, fast or slow. We also ask that your instrumental be less than 4 minutes and 30 seconds. So your beat must be at most 4 minutes 30 seconds long. When you can send us your beat, you can call it what anything you want, but let the name end with 'riddim'. e.g. Shine Your Eye Riddim, or This is my year Riddim. This is important, for us to be able to identify which artists use your beat.

As a producer, you are entitled to a maximum of three entries for Riddim 2018. This means that you can submit a total of 1, 2, or 3 beats. You can submit your beats at any time you desire (even if you submit a beat 2 months after your first beat)

When sending in your beat, please send in an MP3 of 320kbps quality, for us to upload, so that vocal artists have a quality version of your beat to record on. You can also send us a link to download your beat in WAV (uncompressed) audio format too. This will be good for 'serious' artistes, so they can make the best-sounding song on your beat.

You are free to 'shoutout' or add your own soundtag to your beat. Please be moderate, so it doesnt interrupt vocalists making their song on your beat.

The beat(the riddim) you produce will be free for any artist to use, and completely free to distribute, share, and re-upload.


For singers and rappers and artistes
All the riddims for this year's Riddim collabo will be available on this page. You are free to download the riddims here and make any kind of song you want to make on it.

You are allowed to make slight changes to the beat/riddims you use. We would prefer if if you work with it just as you downloaded it here on NGplaylist. However, you are free to alter the beat slightly in any way you see fit to make the best song possible!
These are the rules of Riddim 2018
1. Each producer may submit a maximum of 3 beats for Riddim 2018.
2. Producers can submit beats anytime before December 1 2018. We recommend you send in your beats as soon as you can, so that artistes can work on the beat.
3. Each singer/artist/rapper may only make songs on at most 3 riddims. So as an artist, you can only pick any 3 riddims you like the most and make songs on it. This means that you can submit a maximum of 3 completed songs, on different riddims. An artiste cannot submit two different songs on the same riddim.
4. The deadline for any artistes to submit completed songs on the riddims is December 15 2018. We highly recommend you send in your songs as soon as they are complted and finalized, so that more people can listen to the songs, and vote on your songs!
5. Riddim 2018 is open to artises and producers of any country/nationality. It is open to guys and gals, and its open to people of any age. Even though NGplaylist is a Nigeria-centric music website, Riddim 2018 is open to anybody of any nationality and language to participate in.
6. You are not allowed to use any copyrighted samples or sounds in your beats/songs. Please make original beats and songs.
7.By submitting your beats and songs to Riddim 2018, you are agreeing to put your music in the 'public domain' - that means that anybody can download it, share it, sell it, modify it, distribute it, burn it on CDs, and upload it anywhere. Riddim 2018 is a collaborative effort, so openness is part of the ideology behind it. This means that you can also put any song you make from the riddims here on your own album/CD/website or any other platform. You are allowed to market and sell any music you download on this page. By participatin as a producer or as an artiste, you are giving anybody (including radio stations and other music platforms) the license to play and redistribute your music.
8. In Riddim 2018, you can participate either as a producer or an an artiste. You can't participate in both categories. So if you're a producer, you can only send in beats for this competition and you cannot sing or rap on anybody's riddim. If you're an artiste, you can only make songs on riddims that are provided in this competition - you cannot also make beats and send them in. So please pick only one category to be in!
9. Your songs can be sang/rapped in any language. If you make your song English, you'll probably have a higher chance of doing well in this competition, but you're free to make your song in any language you desire!
10. This is not a hard rule, but if you're an artiste making a song on a Riddim from here, please give a shoutout on your song to the producer and to us here at NGplaylist!
11. Complete songs sent in can be anywhere from 2 minutes long to 4 minutes 30 seconds long.
12. Beats sent in by producers must be between 3 minutes long and 4 minutes 30 seconds long. Beats of 2 minutes, 1 minute, 2 minutes 45 seconds are not allowed (its easy, you might just need to loop your beat for longer!).
12. As a vocal artiste, you are allowed to shorten a beat. So if a beat you downloaded is 4 minutes long, you are allowed to make a shorter song with your recording engineer. So you can send in a song of 3 minutes, and cut out the remaining of the beat as you desire.
13. For any questions you might have about RIDDIM 2018, please email us at contact@ngpaylist.com.
14. When you are sending us your beat or song, please also include information like your music name, andyour location, and a picture we can use for you (it can be a picture of you, album art, etc).
15. Please send in all your MP3 files in 320kbps (highest quality) - both beats and completed songs.